Game 7 of the NBA Finals will begin at 8:00 p.m. ET on ABC.
A Battle Royal
Defending NBA champions, Golden State Warriors lost the chance of winning the NBA title as the team was overwhelmed by the Cleveland Cavaliers 115-101 on Thursday. The loss forces a winner-take-all Game 7 in the 70th championship finals showdown that will be played on Sunday night back in the Bay and Warriors home stadium, Oracle Arena.
The victory ensured the Cavaliers tied up scores 3-3 despite going down 3-1 before game five and six respectively, thereby leaving both teams having their destiny in their hands in what is expected to be an explosive finals.
It should be noted that no team has ever come from behind to win the NBA finals and the Cavaliers could seal that perfect comeback literally making history. The Cavaliers are trying to win their first title since the club was formed in 1970 and bring Cleveland its first major sports championship since 1964, when the Cleveland Browns of the NFL won the Superbowl.
Golden State, meanwhile, could suffer the worst choke in NBA history, squandering the trophy after three chances to win it. The Warriors are only the third team to be taken to a seventh game after being up 3-1, the first in half a century!
Cavaliers' sharp shooter and a potential NBA MVP, LeBron James was the cynosure of all eyes as he stole the show with 41 points in a blowout win in an entertaining showpiece that got the fans spellbound. He engineered the team to two important wins, which could prove vital for them as they prepare for the crucial match on Sunday. He leads both teams in each of these categories with 181 points, 68 rebounds, 51 assists, 16 steals and 13 blocks.
None of the six games so far have been decided by less than an 11-point margin.
For Golden State, Klay Thompson needs to take pressure off Stephen Curry who has been fined $25k for his foul language in Game 6, and Draymond Green must stay focused and out of foul trouble.
While James and Curry will be the focus of the media heading into Game 7, their teammates could decide who wins. For Cleveland, Kyrie Irving or Kevin Love will need to step up. Irving injured his foot in the second half of Game 6, and Love has been shockingly nonexistent in this series.
The Naija Boys
Ezeli needs to step it up
Festus Ezeli will be expected to play a key role against a Cavaliers side having failed to shutdown Lebron James from getting towards the vital areas of the front court in Game 6. Ezeli whose towering size (6 ft 11 inch) and composure with the ball helped Golden State in their game 1 and 3 wins over the Cavaliers has done little or nothing in their recent games. The Nigerian player, originally from Benin City must find a way to redeem himself if the Warriors are to win Sunday's game against a rejuvenated Cleveland Cavaliers.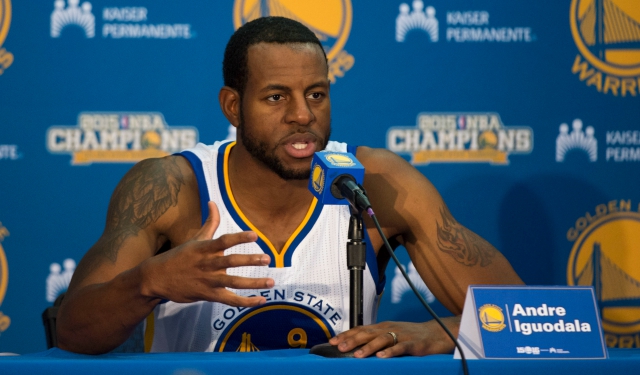 Igudaola is good to go
32-year-old Nigerian-American Golden State Warriors swingman Andre Iguodala is expected to play in Game 7 of the NBA Finals on Sunday, coach Steve Kerr said Saturday. Iguodala labored through Game 6 because of back pain, and did not look like the same player who won Finals MVP a year ago. It was suspected that Iguodala would not be able to play in tonight's game, however as Coach Steve Kerr said, "it's Game 7, and he's Andre Iguodala, so we know he'll be out there."
The defensive-minded winger was battling back stiffness throughout the Dubs' Game 6 loss in Cleveland, and he looked like a shell of himself as he hobbled through 30 relatively ineffective minutes. There's no telling how close to 100 percent he'll be for the season's final game, but if he's still severely limited the Warriors could be in for a world of hurt.
Iguodala's own 40 percent shooting from three-point range during these playoffs has also given the Warriors yet another dangerous floor-spacing deep threat, too.